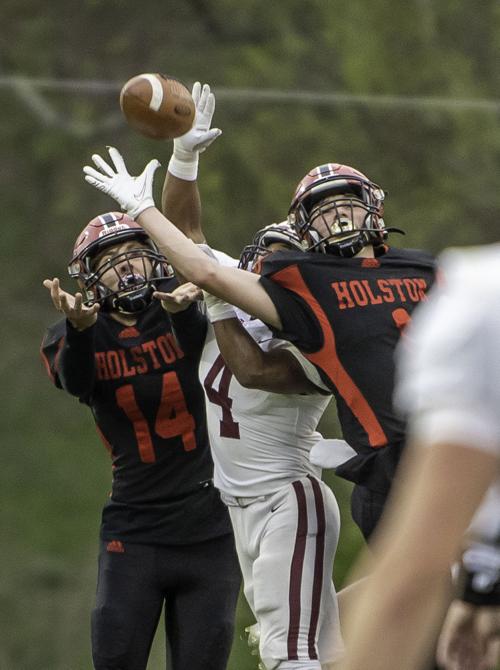 DAMASCUS, Va. — Quaheim Brooks was the target, and Galax came after him the entire night.
"They were locking me down, I can't lie," said Brooks, Holston's talented senior quarterback. "They were the best defense I have played; that is a good team right there, the best team we have played so far. We played hard for four quarters, and we left it all out there."
Galax (8-0) ended the first half and started the second half with touchdowns, and the Maroon Tide answered Holston's lone score in two plays for six more points to defeat the Cavaliers 27-6 in a Class 1 state semifinal on Friday night.
"I knew it was going to be a good game. They have got a really good football team," Galax head coach Shane Allen said. "They have got really good athletes all over the field. They have done a great job; the line blocks well, and they have got athletes everywhere, and it just wears you out."
After both teams had first half touchdowns nullified by penalties, Galax was able to get on the board in the final minute of the half. Cole Pickett completed a 20-yard pass to Kolton Keatley, and then Holston was called for a personal foul, putting the Maroon Tide at the Holston 8-yard line.
"That really did hurt, and then we get lined up wrong on the touchdown run right there before the half," Holston head coach Derrick Patterson said. "I don't even really think that deflated us, but that hurt us going into the second half because now you are playing from behind."
Pickett kept the ball on third down and pushed his way into the end zone from 6 yards out for the touchdown. Javier Gallardo connected on the conversion kick for the 7-0 lead with 42.7 seconds on the clock.
"That is what it takes; you have got to fight to get those in," said Pickett, who had a 64-yard first quarter touchdown nullified by a blocking in the back call.
Galax went on a 13-play, 65-yard drive coming out the break, pounding the football before Pickett was able to find Santana Sawyers, who worked his way into the end zone from 16 yards out. Gallardo's kick made it 14-0 at the 5:26 mark of the third.
"Anytime you score, especially when you are getting the ball to start the second half, if you can score right before the half and get up by two scores, that is huge," Allen said.
Holston (6-2) had its chances, getting the ball to the Galax 6 to open the second quarter, but a touchdown pass was nullified by a penalty. The Cavaliers wound up turning the ball over on downs. Brooks also completed a 54-yard strike to Jordan Ezell to get the ball to the Galax 13 in the third quarter but once again couldn't get the ball in the end zone.
"Galax did a great job. Their game plan was to contain Q, and they weren't as aggressive rushing as we thought they would be," Patterson said. "They were kind of sitting back and waiting on him to take off, and they were forcing him to have to throw the football, and they had really good coverage on us."
Holston finally got on the board on its first possession of the fourth quarter, with Brooks going to the air, connecting with Trent Johnson for 36 yards. Brooks was then finally able to use his legs, sneaking into the left corner of the end zone for a 14-yard score to narrow the margin to 14-6 with 8:29 to go.
However, the Maroon Tide answered, with Javonte Reeves getting loose for 58 yards, and Keaton Beeman — who finished with 113 yards — did the rest from 9 yards to put the Maroon Tide up 21-6. They added another score later in the quarter on a 20-yard run by Reeves, who finished with 90 yards on the ground, much of which came behind 6-foot-3, 250-pound Josh Brown.
"We knew we were going to have to counter that touchdown; if we didn't, it was going to be bad. They had all the momentum," Allen said. "I just told the kids we are going to have to pound it down and score, and Javonte had a great run right down there."
Pickett, who finished 58 yards passing and 66 yards on the ground, will lead the Maroon Tide in the Class 1 state championship this Saturday at either Riverheads or West Point. The Tide lost to Riverheads in the finals last season, and Pickett wants a different result this time.
"This is two in a row. Hopefully we will win this one," said Pickett, who had one of Galax's two interceptions on defense.
Holston managed just 94 yards on the ground, led by Izell with 68 yards, while Brooks threw for 184 yards, including 62 to Logan Walden and 53 for Johnson, who also had a fumble recovery for the Cavaliers.
"That is a great football team that we lost to, and we are a great football team," Patterson said. "Our players, I am just so proud of them."
It was a spring season to remember for the Cavaliers, who reached the state semifinals for just the third time in program history and the first since 2009, no doubt bringing plenty of excitement to the surrounding community.
"That was really special. Winning a district title and a region title and [getting] to the semis, they haven't seen that in a long time," Brooks said. "That was very special to them and very special to us.
"A lot of our guys are crying in there right now, but we have a lot to smile for, really."
G-Pickett 6 run (Gallardo kick)
G-Sawyers 16 pass from Pickett (Gallardo kick)
H-Brooks 14 run (run failed)