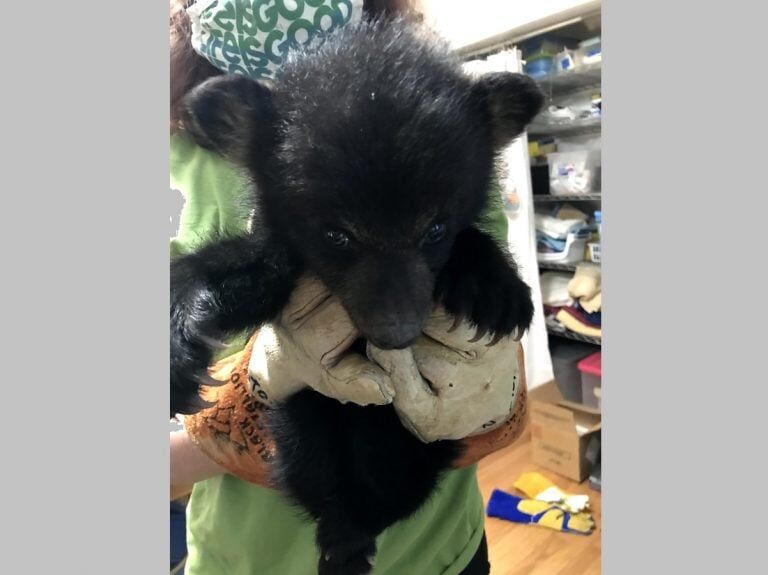 The first baby American Black Bear of the year was found eating goat feed in Floyd County on April 16, weighing 2.8 pounds. The cub is expected to be released next year from the Wildlife Center of Virginia as a yearling.
Executive Director of the Southwest Virginia Wildlife Center of Roanoke Sabrina Garvin said April 23 that the cub is healthy and its "prognosis is good." The wildlife center collected the cub on April 16, after hours of observation, according to its official statement, and the cub's mother never returned.
Garvin explained that cubs normally don't even follow their mothers out of the den until they are around 4.5 pounds, so why the cub was even out "is a mystery." The center doesn't know "how long the cub was without its mom or why it was left, and considered it too young to be eating goat feed or any solids," Garvin said, which is why the decision was made to interfere by the state Department of Wildlife Resources.
Mother bears leave their cubs when they sense danger, the DWR states, ushering it up a tree or drawing the danger away from it; however, most of the time, the mother will return to collect her cub around dark. When cubs are abandoned and unable to fend for themselves, centers step in to protect the wildlife and keep them in a suitable environment with the goal of releasing them back to the wild.
American Black Bears, the only species of bear in Virginia, are heavily concentrated in the Blue Ridge and Allegheny mountains, but largely tend to keep to themselves unless food is involved. According to DWR, most bear problems have simple solutions, such as removing bird feeders that are often targeted, picking up pet food, cleaning grills and not storing trash on porches.
Deliberately feeding or attracting bears is illegal under state law on both public and private land. "Feeding bears may cause them to lose their natural distrust of humans, creating situations where bears may become habituated and sometimes aggressive towards people," the DWR states.
The Virginia Department of Game and Inland Fisheries in 2017 issued a release through the Wildlife Center of Virginia about a bear cub being kept as a pet in Floyd County. It was found wearing a dog collar and "was extremely tame and readily approached people."
DGIF stated that because the cub was unable to interact normally with other cubs after several months of living in the same enclosure, the cub "will likely never be a happy, healthy wild bear."
Leader of the Black Bear Project Jaime Sajecki suspected the cub was kept as an illegal pet for "at least several months," according to the release. The project was created in 2016 to collect a variety of data, revolving around the migration and habits of black bears in Virginia.
More information about black bears and what to do if you spot one in Floyd can be found at www.dwr.virginia.gov/wildlife/bear or by calling the Wildlife Conflict hotline at (855) 571-9003.