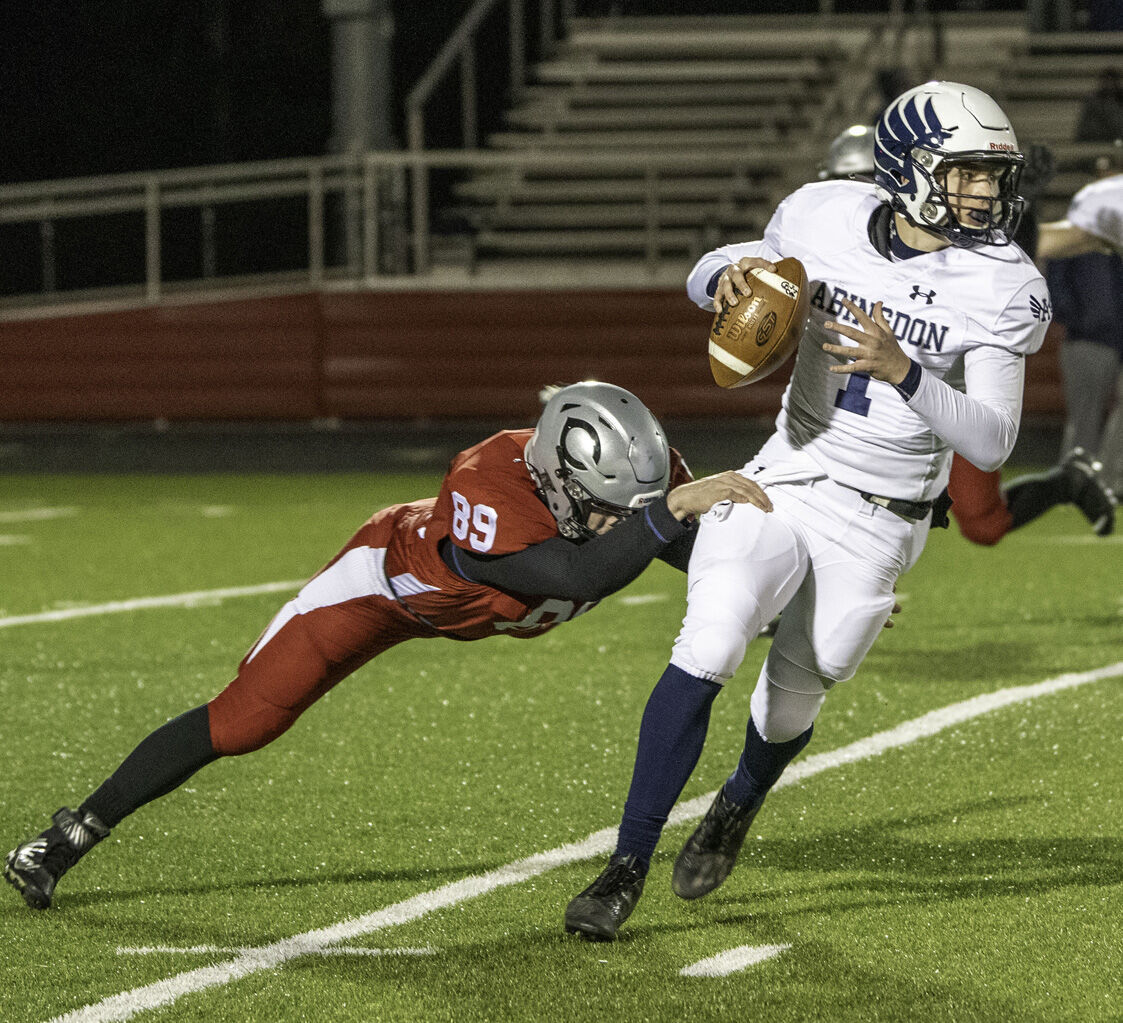 WISE, Va. — With Division I signee Martin Lucas banged up early, Peyton McClanahan knew someone had to make a play for Abingdon.
So he did just that. More than once.
The 6-foot-3 junior receiver caught a pair of touchdown passes from Cole Lambert, including a terrific second half grab along the sidelines that helped lift Abingdon to a hard-fought 13-7 Mountain 7 District win at Wise County Central on a bitterly cold Friday night.
In a matchup of what is expected to be the top two teams in the Mountain 7, Abingdon used a couple of big plays and terrific defense to come out on top.
"We knew this was going to be a big game," McClanahan said. "I guess people were calling it a district championship, but we are far from done."
Abingdon (2-0) was able to contain Wise County Central's speed outside of one play, a 35-yard scoring pass from Ethan Mullins to Ben Brickey to put the Warriors up 7-0 21 seconds into the second quarter after the conversion kick by Ricardo Onate.
Wise Central finished with 139 yards on offense, led by C.J. Crabtree, who had 70 yards on the ground.
"Everybody knew it was going to be a tough game and a marquee matchup between two real good football teams," Abingdon head coach Garrett Amburgey said. "We are fortunate to get out of here with a win, I am so proud of our guys."
The Wise Central defense was just as stingy, with the Falcons finishing with just 216 yards on offense, with 135 coming through the air.
"We have got to be more efficient offensively, that is two weeks in a row, and that is on us," Wise Central head coach Luke Owens said. "That game was 100% on us. I thought defensively we played great.
"They are huge, that is a big football team out there we played against. I thought our kids did a really good job of stopping 23 [Lucas], I thought we defended the run really well."
Abingdon was able to win the field position game after Timmy Jessee unleased a 55-yard punt that was downed at the 1. Three plays later, the Warriors were forced to punt, but the kick went just 10 yards.
Two plays later Lambert found McClanahan in the end zone to tie the score at 7 apiece after the extra point kick by Jessee with 2:46 left until halftime.
That came after Martin Lucas left the game early in the first quarter and didn't return to carrying the ball until the final drive of the game.
"I knew we needed some plays so I just wanted to come up with a play for our teammates and our team," McClanahan said. "I knew Martin was out with a couple of plays. He took a pretty big hit so I just knew I needed to come up big for us."
It was the Lambert to McClanahan combination once again in the final drive of the third quarter, connecting for completions of 4 and 35 yards to the 13. McClanahan finished with five receptions for 92 yards, while Haynes Carter had three catches for 43 yards.
"We were right there. I don't know what else we could have done, I really don't," Owens said. "The thing on third and fourth downs in those type of plays getting off the field, but that doesn't happen if we are more efficient offensively, and that is what I am going to be harping this week..."
Wise Central limited the Falcons to just one yard on three plays, setting up a 4th down from the 12. Lambert threw a ball toward right pylon, and McClanahan juggled the ball before reeling it in for the final score of the game.
"I just had to focus in on it. I knew it was a little bit outside of me, but a great throw by Cole, he knew that was the only place he could get it to me," McClanahan said. "We worked all offseason on that throw over that shoulder."
Maddox Reynolds blocked the Jessee extra point attempt to set the final margin.
"[Peyton] was able to pull it in with one hand on the sidelines, it was unbelievable," Amburgey said. "A touch fade in the end zone and then a big catch on our sideline. It is just impressive, the catch he was able to make."
The Tyler Harless-led defense continued to limited the Warriors, although three face masks calls on Abingdon gave them one more chance deep in Falcons' territory, but Jake Johnson picked off a Mullins pass on 4th down at the 17 with 2:53 to play.
"Just credit to our guys, and defensively what a performance. The personality of the game was battling for every inch and our defense never flinched," Amburgey said. "Tyler Harless had a huge game in the middle for us. Jake Johnson had a huge game and those guys on the d-line just battled and battled and battled. I am so proud of them."
That is when William & Mary signee Lucas was able to finally make his presence felt on offense, rushing for three first downs on the final possession to help the Falcons run out the clock. He was held to 44 yards, but 33 of those came on those final carries.
"He did a great job right there. He came in at the end he was like I am going to get these yards for you guys," McClanahan said. "He got us a bunch of first downs there at the end."
"At that point in the game everybody knows it is going to 23 and to get those first downs there was great plays by him and phenomenal effort," added Amburgey.
While Abingdon will host Lee next Friday, the Warriors (1-1) will look to get its offense on track by welcoming Gate City to Wise next week.
"Really that game didn't count in the power points with the protocols they had this year so we need to rip off three straight wins here," Owens said. "We need to get ready for Gate City next week and be ready to rock and roll, we need to take care of us and that is the big thing."
Wise County Central 0 7 0 0 - 7
WCC-Brickey 35 pass from Mullins (Onate kick)
AHS-McClanahan 10 pass from Lambert (Jessee kick)
AHS-McClanahan 12 pass from Lambert (kick blocked
First downs: AHS 8; WCC 5. Rush-yards: AHS 34-81; WCC 42-103. Pass yards: AHS 135; WCC 36. Comp-Att-Int: AHS 8-15-0; WCC 2-10-1. Fumbles-lost: AHS 3-1; WCC 2-1. Penalty-yards: AHS 6-75; WCC 5-40. Punts-Avg: AHS 6-32.0; WCC 6-37.5.