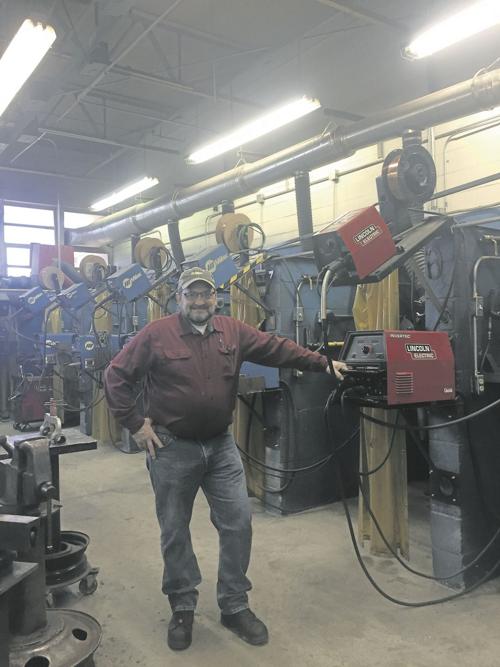 Doug Thompson has been welding for most of his life—from making repairs on the large farm in Floyd where he grew up, to starting a fabrication and repair business after college, he became a fount of knowledge for the trade and the industry. Seeing his potential, Floyd County High School principal Barry Hollandsworth approached Thompson about teaching. That was 19 years ago, and Thompson continues to teach Floyd County's youth this important skill, as well as leading an adult welding class in collaboration with New River Community College that is consistently in-demand.
"There's a waiting list for the class because the skills are necessary for employment," said county Superintendent John Wheeler.
Thompson said his adult welding class has something to offer a variety of potential students. "Whether they were wanting to change career paths or just better their skill level at their jobs," Thompson said, adults began calling him throughout the year with interest in the class. "I'll have people come from as far as North Carolina (or) Martinsville, Va.," he said, "Some of them take it (so) they can pass a welding test, and then I have several (women) that take my class to learn how to do weld art. Farmers learn how to repair their own equipment, instead of having to pay someone."
While adults (and kids) can find value in welding instruction outside of employment, Thompson said there is an economic demand for skilled labor from which his students can benefit. Thompson's class is incredibly popular, but he humbly avoids taking credit for that, instead attributing it to the need for his particular skills. "Word kind of gets around. I'm by no means saying that I'm any better than the next instructor, it's just the demand in our county for people to learn this skill," he said.
In his high school classes, students enter the welding program in their junior year, and by the end of it, Thompson says, "they're familiar with all the equipment." By the end of their senior year, they've practiced taking measurements, working with different materials, blueprint reading, and many more skills, Thompson explained. Students at the high school can earn seven credits transferable to New River Community College if they decide to pursue a two-year degree, Thompson said, which can save them more than $800 in tuition.
And while a two-year degree is a valid choice, Thompson said, by the end of his high school program, his students have the opportunity to be designated as "certified, qualified welders," an accreditation that gets logged in a national database and which future potential employers will be able to review. Thompson also collaborates with local employers, such as Hollingsworth & Vose. "We have a partnership (with them), we travel over there and the company helps with training," Thompson said. The program has a good relationship with the United Association Plumbers and Steamfitters Local Union 10 out of Roanoke, where his students can go for a journeyman apprenticeship.
Each year, Thompson has between 18 and 25 students graduate from his welding program, he said, and "it would blow your mind" what the students go on to do professionally. "Unfortunately, we don't have a whole lot of industry in (Floyd County), but it's growing," Thompson said. "About a quarter of our students (go on to work) at Altec, where they make bucket lifts and so forth. Like Citizens would use and Appalachian Power Company."
Thompson proudly told stories about former students who travel extensively with jobs using their welding knowledge. One Floyd County graduate, he said, is now welding around the country, most recently traveling to Arkansas. Another is working at a nuclear power plant in South Korea.
Thompson repeatedly emphasized the important relationship between the success of the welding program and the support it's been shown by the community, the School Board, and the county government—including the approval of the new Career Development and Collaboration Center. "All this ties in. I talk a lot about the new (CDCC) and the direction we want to go. That's super exciting, to know the way we're going, and I think we're going to be ahead of other programs around," Thompson said.
Beyond welding, Thompson shouted out his fellow Career and Technical Education (CTE) teachers at the high school—a nationally-certified chef teaching culinary arts; a registered nurse with a 100% pass rate on her certification exam; a Class A contractor who teaches the building trade. Thompson praised "the work that Dr. Wheeler, Barry Hollandsworth, (CTE Director and Assistant Principal) Brittany Quesenberry, and the School Board did in putting this plan together to expand." He said, "They realize how strong our programs are and the needs of the community." Thompson will gain an additional 2,000 square feet of instructional space after construction is complete.
Thompson's next adult welding class begins Feb. 3 and registration is currently open. Classes will be held at the high school on Monday and Wednesday evenings from 4-6:30 p.m. and the cost is $450. Thompson said the adult welding program actively supports his high school courses. "When the money comes in, the part of it that is not used to cover materials or pay me is put back into my school account and helps to buy the students' supplies," he said.
The business news you need
With a weekly newsletter looking back at local history.