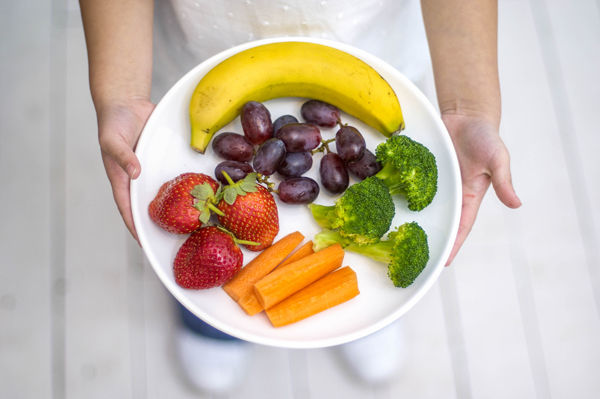 Smyth County students are eating healthy snacks thanks to grants for fresh fruits and vegetables.
Phillip Griffin, director of Support Services, reported at the August school board meeting that Smyth County Schools received word earlier this month from the Virginia Department of Education that five schools - Oak Point, Sugar Grove, Marion Elementary, Saltville Elementary and Atkins Elementary - have been selected to participate in the Fresh Fruits and Vegetable Program.
The total award for all five elementary schools is $90,775.57, Griffin said.
"This program allows us to serve a snack of fresh fruits or vegetables three days per week at no cost to students," he said. "The grant also covers an additional one to two hours for up to two staff members to prepare the snacks for the day."
Griffin also noted the availability of the Child and Adult Care Food Program After-School Grant, which allows the school system to serve a snack or a meal to all students who may be staying after school for any extracurricular activity.
"This grant is offered at all schools to all students throughout the county," he said.
The CACFP is a federal program that provides reimbursements for nutritious meals and snacks to eligible children and adults who are enrolled for care at participating child care centers, day care homes, and adult day care centers. CACFP also provides reimbursements for meals served to children and youth participating in afterschool care programs, children residing in emergency shelters, and adults over the age of 60 or living with a disability and enrolled in day care facilities.
Smyth County Schools was also informed this month of a $121,545 grant to continue funding a 21st Century Learning Center program at Saltville Elementary School, with a healthy eating and fitness aspect.
The Virginia Department of Education is awarding 28 grants to fund new centers in 19 school divisions and continuing funding of 87 programs that received initial grants in 2016, 2017 and 2018. The grants range from $50,000 to $200,000 and promote equitable educational opportunities for students by supporting tutoring and enrichment activities that complement regular academic programs.
Community learning centers operate before and after school, during school breaks, Saturdays, and during summer vacation. The centers also provide educational services for families of participating children.
The program helps students meet state and local standards in core academic subjects, such as reading and mathematics; offers students enrichment activities that complement regular academic programs; and offers literacy and other educational services to the families of participating children.
"Well-designed community programs support the efforts of teachers and schools to improve outcomes for students and engage families in the learning process," Superintendent of Public Instruction James Lane said in a news release about the grants. "I thank all of the applicants — school divisions and community-based partners — for promoting equity by providing these additional learning opportunities for our students and their families."
Saltville Elementary first won a three-year grant of $137,688 each year in 2015 to fund programs for kindergarten through fifth-grade students and their families. Families are involved through mini-classes offered on health issues, literacy, math skills and how to help children with their homework.
The 21st Century Community Learning Centers program is authorized under Title IV, Part B, of the federal Elementary and Secondary Education Act of 1965, as amended by the Every Student Succeeds Act of 2015. Funds come from the federal No Child Left Behind program to the states for dispersal to schools and provided free of charge to students and families with priority based on need.
Also at the August school board meeting, the board approved a request from Superintendent Dennis Carter to expand the Alternative Middle School Program to Marion Middle School.
"Currently we serve six middle school children from across the division at Chilhowie Middle School," Carter said in a memo to the board. "Due to the larger student population at Marion Middle School, there is a need for a similar program to serve Marion Middle School students. We would like to allocate funds from our Rural and Low Income Grant (part-time instructional aide) and our Title IV, A Student Support and Academic Enrichment Grant (part-time teacher)."
The middle school AEP is going well at CMS since it started last year, Carter said, and needs to be expanded. The cost is about $30,000 at Chilhowie Middle School, he said, and should be the same for Marion Middle School. Smyth County receives some funding for the AEP.