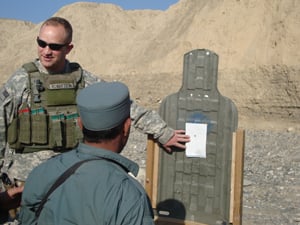 T.J. Robertson, whose job with the Department of Defense keeps him in Afghanistan most of the time, especially enjoyed seeing his son play sandlot basketball during his recent leave. Being out of the country, he misses most of those things. But it took some special arrangements to make it happen.
Actually the season had already ended, and a special sixth and seventh grade sandlot exhibit game between his son's team, the Check Cavaliers, and the Floyd Buffaloes had to be arranged. The coaches, parents, and children saw that it happened.
"It was incredible," Robertson said. His son's team won that day, and he added, "it was great I got to see him, and they played very well."
T.J. and wife Julieann appreciated all of those who had a part in the day and took time out of their schedules. Robertson didn't realize he was also going to be recognized during the game. "They had a plaque made up – 'thank you for your service to the country'. I wasn't expecting it. It caught me off guard."
T.J. and Julieann, a Los Angeles native, have two children, Hunter, a sixth grader at Check Elementary School (CES), and a 15-year-old daughter, Kenna, a student at Floyd County High School (FCHS).
Robertson, who is originally from Roanoke, grew up in Floyd County. He also attended CES and FCHS, and graduated from the high school in 1991.
After graduation, he worked for a while before becoming a police officer in Roanoke City and then in Rocky Mount. He became an Army Reservist at the same time he was working full-time in Rocky Mount.
After 9/11, Robertson was pulled toward military service. "I was ticked off about what was going on," he commented. Robertson was 34 years old, but in excellent condition. He said the country had treated him very well and he was thankful for his family and freedoms he enjoyed. He noticed the recruitment numbers were down, and basically said if the country needed him, it was time to do his part.
He went to Iraq in 2007-2008. Altogether, he served in the Army almost five years.
He attended ranger school and was trained as a sniper, and in 2010, when the Department of Defense was looking for people to train the Afghani army, he decided to take the job.
He continues to train Afghan security forces as a private military contractor working for the Department of Defense with the 101st Airborne Division in Afghanistan.
Every four months Robertson can take 14 days of leave to come home to Floyd County. He looks forward to seeing his family because that is a long time to be away, and he said he was especially thankful that the community made this trip even more special. "The parents, kids, and coaches, their sacrifice in that respect was touching."