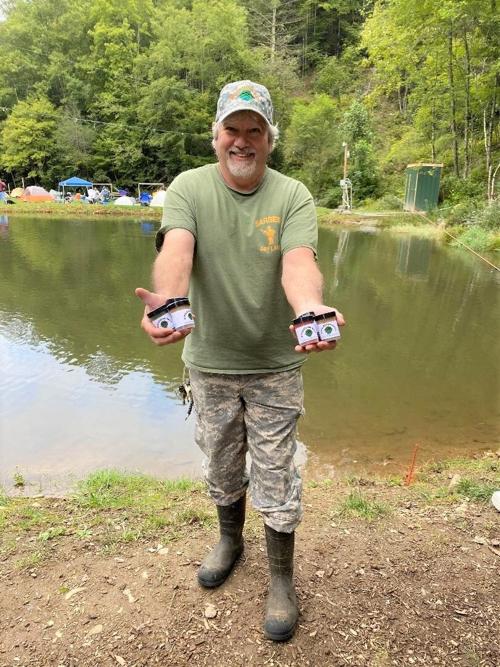 DAMASCUS, Va. — A local businessman is looking to reel in sales with new fish baits he developed from his home in Damascus.
Alan Necessary, who opened a trout pay pond business in 2017, is not only catching fish, but he's snagging the attention of fishermen throughout the country after opening his new business, Appalachian Baits, last year.
Necessary, who, along with his wife Jamie, owns and operates Sarge's Pay Lake and Campground in the Green Cove community, reported internet sales for the fish baits as far away as California, New York, Connecticut and Georgia.
According to Necessary, 60, his custom dough baits will be featured in the 2021 catalog for Smith Minnow Farm, a wholesale freshwater bait distributor in central Virginia.
He's hoping the business will take off locally when the Virginia Department of Wildlife Resources stocks catchable fish in waters throughout the state beginning in October.
Necessary has helped to build the business with money he was awarded by the 2020 Washington County Business Challenge. He won $5,000 for placing first in the Existing Business Expansion category and another $1,000 for placing first in the Best Business Plan.
Among other supplies, he purchased a large commercial mixer for making the baits and a refrigerator and freezer for storage.
A bit fishy
When it comes to fishing baits, you won't find a more unique version than Appalachian Baits, said the entrepreneur, who opened Sarge's Pay Lake and Campground on Buckeye Hollow Road after retiring as an Army sergeant. He returned to his Southwest Virginia home where he grew up fishing with his father and grandfather.
He said the soft, sinking dough is similar to putty that when rolled up is placed on fishing hooks.
"Other dough baits float when you throw them in the water," said Necessary. "You have to use sinkers with them. But my baits sink in the water. Our prices are very competitive, too. A fisherman can catch 20 to 30 trout with one jar of bait."
When asked about the ingredients he uses, the military veteran replied, "It's top secret."
Necessary developed four flavors — or scents — of the fish baits, choosing country names to match the business model: Super Cheese, Ole Red, Road Kill and Garlic Glitter, which is one of the best-sellers.
He introduced the baits at the Appalachian Baits Fall Fishing Blast held earlier this month at the Damascus business. During the festivities, he released the names of two additional new baits: "Toe Jam" and "Korn Bred."
Necessary believes his fish bait business will be a good complement to his trout pay pond that primarily operates on weekends seven to eight months a year, depending on weather.
Discovered by accident
Ironically, the new fish baits came by accident when Necessary decided to see if he could come up with cheaper baits to sell to customers at his Sarge's Pay Lake and Campground.
"It didn't make sense for us to buy expensive bait for fishermen who mostly bring their own. I was spending as much as $70 on baits each month. That's more than I can invest in for a weekend business.
"I started browsing the internet and found a recipe I liked. But what followed was a lot of trial and error. It's taken about three years to get it right. My recipe is about 95% environmentally friendly," he said.
"The first bait was made from cheese — we didn't even name it until customers started noticing that it really worked."
Necessary first chose Appalachian Trout Baits as a name for his new business, until he learned that the homemade baits were catching far more than just trout.
After sending samples of the baits to various fishermen outside of the region, Necessary received a response from Tolliver's Guide Service in Boone, North Carolina.
"They sent a photo of a large bluegill that was caught with my bait," said Necessary.
"So we dropped the word 'trout' from the business name.
"That opened the business up to a whole new venue of fishermen across the country. A trout bait was only going to be successful on the East and West coasts and other parts of the country where they have trout fishing."
Best-sellers
Appalachian Baits can be purchased locally at Watauga Farm, Lakeshore Campground and Andy's Market 2, all of Abingdon; Clinch Life Outfitters in St. Paul, Virginia; Sportsman's Den in Saltville, Virginia; and Green Cove Collective in Damascus.
The baits are also sold at locations in Pigeon Forge, Tennessee, and Maggie Valley, North Carolina.
He already has been accepted to sell his products in gift shops at national forests in Tennessee, and he is waiting for approval to sell them in Virginia national forests locations.
Necessary also is marketing caps with his business logo and mini turtle-shaped tackle boxes that fit in pockets.
Fish baits and other merchandise can be purchased at Sarge's Pay Lake and Campground, located at 24135 Buckeye Hollow Road in Damascus.
Contact the owner by visiting the business on Facebook.
Carolyn R. Wilson is a freelance writer in Glade Spring, Virginia. Contact her at news@washconews.com.
Be the first to know
Get local news delivered to your inbox!