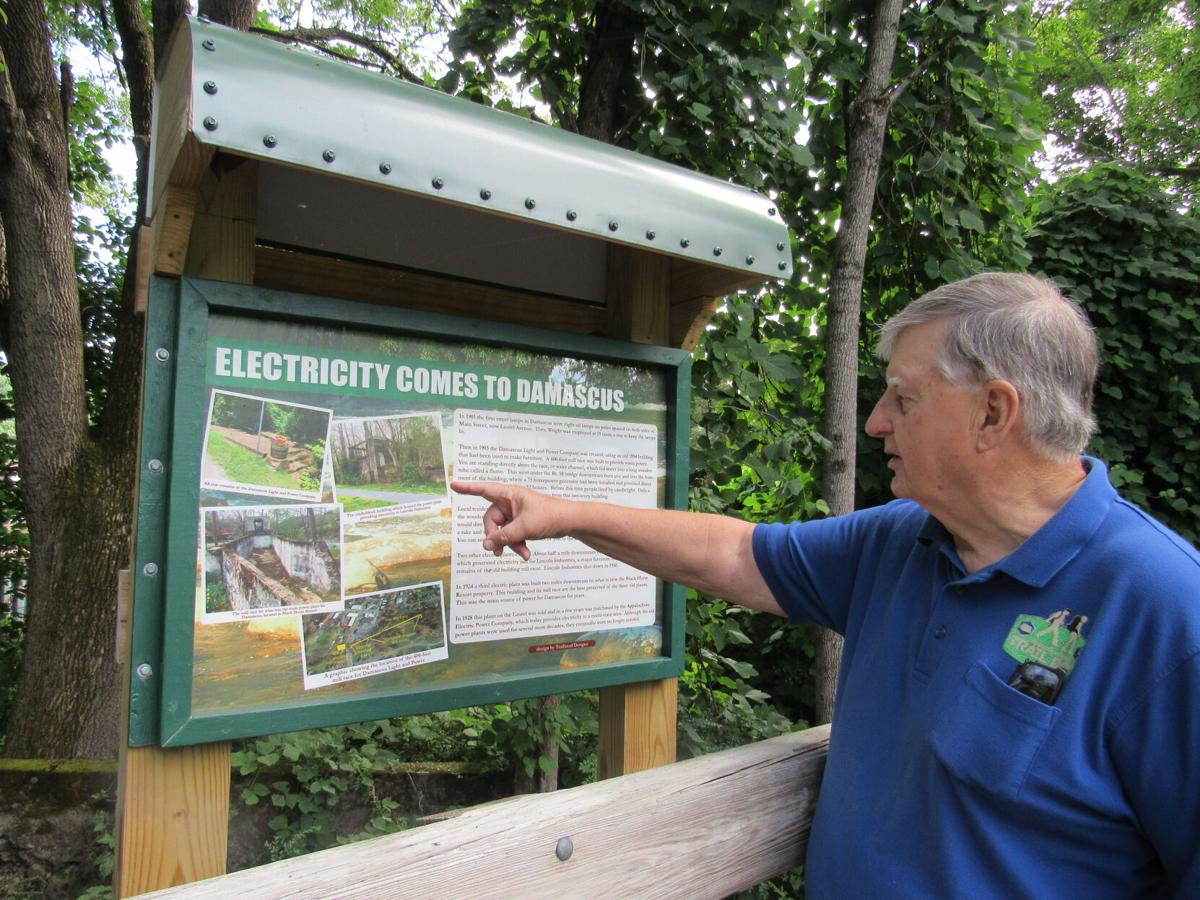 DAMASCUS, Va. — A Damascus historian is giving residents and visitors another good reason to walk or bike through what's been dubbed "the friendliest town on the Appalachian Trail."
Richard Smith, 81, is instrumental in creating a history tour that spotlights points of interest in the small Southwest Virginia town — a tourist destination that holds quite a bit of history from the days when the mill town thrived on lumber and the railroad.
Smith invites residents and visitors to participate in the Damascus History Tour, a self-guided tour that's like a journey back in time.
The first phase of the project has included the installation of 12 custom-designed signs placed along a 2-mile stretch in town. Each sign, measuring roughly 2 feet by 4 feet, is placed at a location bearing historical importance.
Paper and online maps will be available beginning in October as a reference for each sign. Maps will be available at most businesses in town.
"We also want to develop an online presence through social media and a website," Smith said.
The tour begins along Laurel Creek on Highway 58 just below the red caboose and meanders through town, ending at Damascus Old Mill.
With the help of historian Eleanor Grasselli and other friends in town, Smith composed a brief history for each sign, including information about the town's old railroad water tanks, the founders of Damascus; the train depot, Hassinger Lumber, Rock School, Beaver Dam Chemical, Virginia Creeper Trail, trails of Damascus, Legion Island, churches of Damascus, Laurel Avenue and Damascus Old Mill.
Bob Craig of Abingdon designed the structure of the signs, including the metal roofs.
Trailhead Designs in Damascus created the graphic art for the signs.
Smith said the project has been funded entirely by donations. Some individuals have helped pay for the signs to honor a loved one or a place. In addition, the town of Damascus has helped with costs.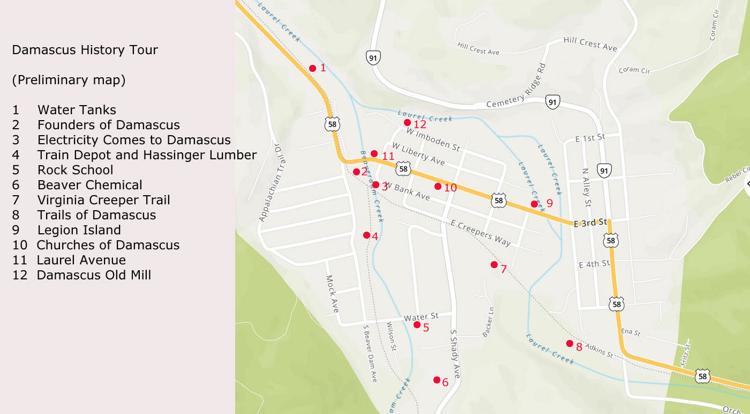 Preserving history
Smith, who has lived in Damascus for more than a decade, was bothered to hear people in town say they discarded boxes of old photos and other memorabilia just because they got in the way.
He knew he had to do something to help preserve the town's rich history.
Smith got the idea for the history tour during some of his walks through the town about five years ago.
"When I walked around Damascus, I would see some strange ruins — concrete structures that were sort of mysterious — and I would ask people what they were. I got many different stories and thought it would be great if someone would research what these places actually are," said Smith.
"Hundreds of people walk by these things every day. Why not put up a sign to help answer their questions?" he asked.
"So I just did it, slowly, slowly. It was much more complicated than I expected."
He asked a lot of questions and got a plethora of answers, he said.
"The trick is to summarize the different stories and try to be as accurate as possible."
He gradually came up with a list of priorities for the signs, some of which were inspired by his own personal interests.
The first sign he created represents the water tanks used during the town's railroad days.
"I kept asking people about concrete structures near the Virginia Creeper Trail. Some people had a general idea, but no one knew specifically what they were used for.
"Turns out, it was the foundation for the old water tanks that were used when steam trains stopped to replenish water."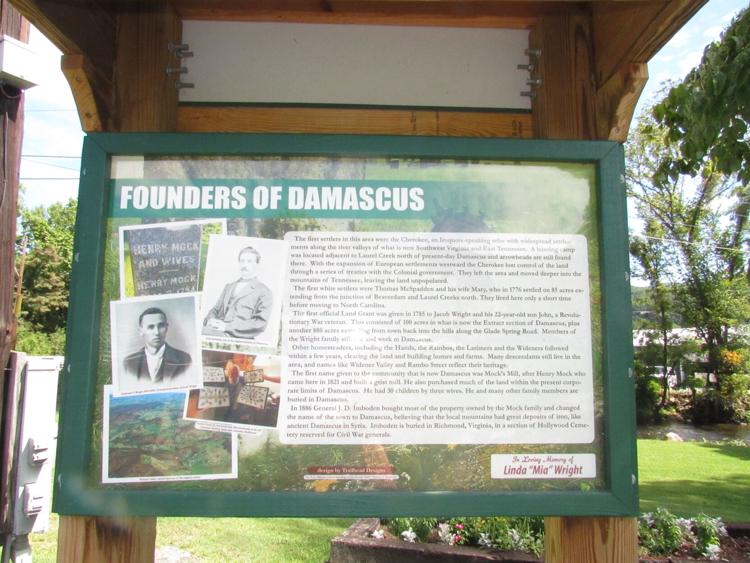 Smith is fascinated by the story of the first electricity plant in Damascus.
He had noticed a concrete channel under trestle No. 16 on the Virginia Creeper Trail.
"I learned this is a concrete channel that goes several hundred yards upstream where you'll find the remains of an old mechanism that directed the flow of water into the channel. Water would flow into a generator that would turn and produce direct current for about 12 families in town.
"It's interesting that leaves would pile up and slow the water flow, causing a resident to have to rake away the leaves to get a better current.
"That's a real view of what it was like here more than 100 years ago," said Smith.
"Beaver Chemical Works was a massive plant, employing hundreds of people," he said. "There's nothing there now but an empty field. We put up a sign showing what it looked like then."
Another important location on the tour is Damascus Old Mill, a waterside restaurant and venue for entertainment that began more than a hundred years ago as Mock's Mill, a water-powered mill for grinding corn and wheat.
Smith included a sign for Legion Island, a focal point for Damascus recreation and social events between 1920s and the 1960s.
Completing the project had its share of difficulties.
"There were the logistical problems, like trying to dig holes in the ancient riverbed that Damascus sits on," Smith said. "There were many round rocks, some very large.
"Creating the text was interesting. Each text on these signs has gone through at least 10 rewrites after being reviewed by a team of people, many local historians who were very precise in their corrections."
A few more signs are needed to complete the project, but he's hoping a volunteer will pick up where he's left off.
"I am hoping someone will step forward to assume responsibility for expanding this tour with three or four more signs. We have several suggestions ready, but I am now moving on to other priorities," Smith said.
"This has been a fascinating exploration."
Carolyn R. Wilson is a freelance writer in Glade Spring, Virginia. Contact her at news@washconews.com.
Be the first to know
Get local news delivered to your inbox!