The Johnson brothers staked out their vantage point across from the Smyth County Courthouse early Friday. They were under The Bank of Marion's clock with a straight view across the street to the courthouse lawn and the monument to the Confederate dead that's stood there since 1903.
The brothers – Nino, of Atkins, and Victorio, of Marion, – wore sidearms. The pair brought water for the numerous law enforcement officers patrolling the area on foot.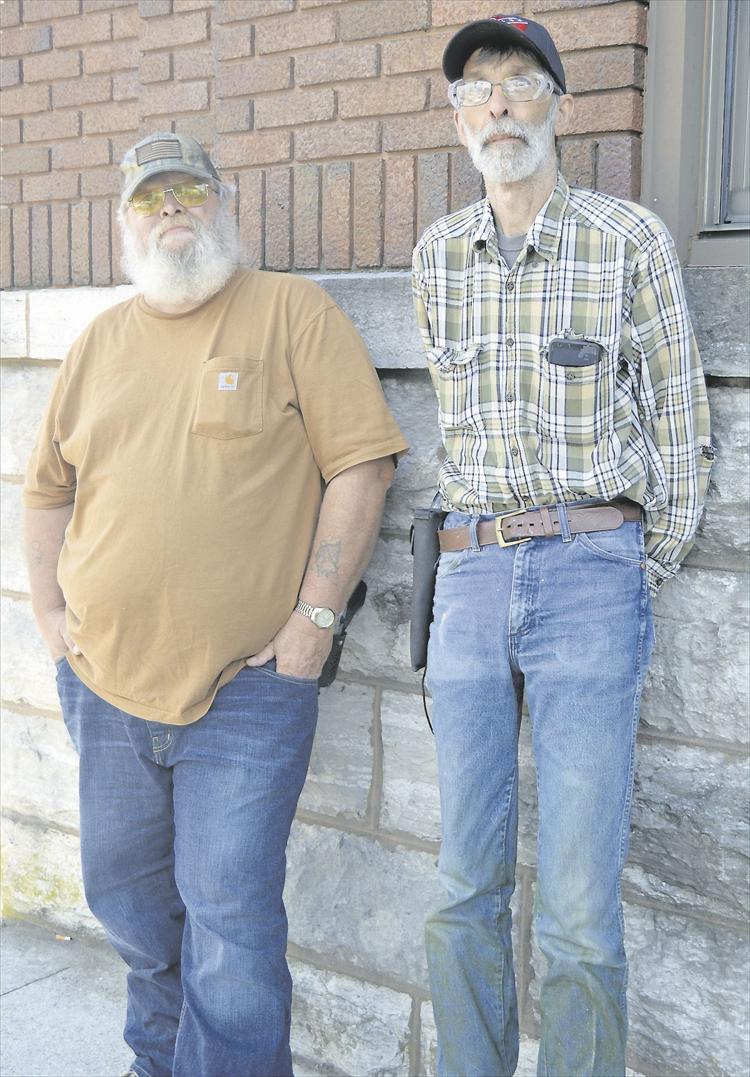 When asked what brought them to Marion Friday when it was to be the site of multiple demonstrations, Victorio said, "You've got to stand for something." He wondered if people didn't stand up, what would happen next.
Nino concurred, adding that he was standing with the police. Firmly, he said he was ready to accept the consequences of his actions.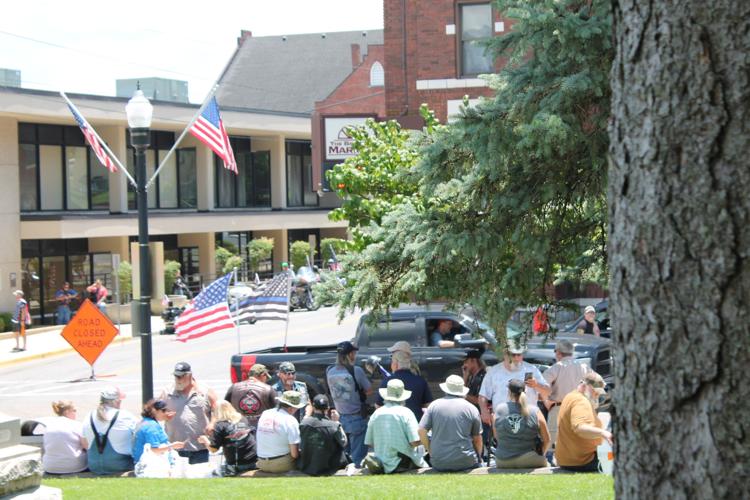 A short time later, several men took up a shady spot on the stone wall encircling the courthouse. They sat directly in front of the monument. Tommy Hess, of Russell County, said he and multiple fellow members of the Russell County CREED (County Recovery, Emergency, Evacuation Deployment) came to Marion to ensure that the day remained peaceful and "the monument stays where it's at." That CREED, Hess said, learned about the event from a Smyth County resident. According to the Russell County group's Facebook profile, the organization's objectives are to "bring together a community-based organization consisting of a patriotic and freedom-loving neighborhood as provided by our Constitution; to yield and to provide a free society with posterity to be handed down to our future generations."
Tom Richardson, of Bland County, agreed with Hess as to his reason for traveling to Marion.
Clement Osborne found a close-by spot on the wall. The Chilhowie man said he was tired of the protests. He said, "I figure if I don't stand up nobody will."
While the Black Lives Matter (BLM) protesters have a right to protest, Osborne said, they shouldn't bring so much trouble. "Everybody here pretty much lives peacefully," he concluded.
Joining those who gathered near the courthouse were bikers calling themselves American Patriots, who had rallied at Wytheville's Rural King earlier and made the 30-mile trek to Marion's downtown, rolling into Main Street just before noon.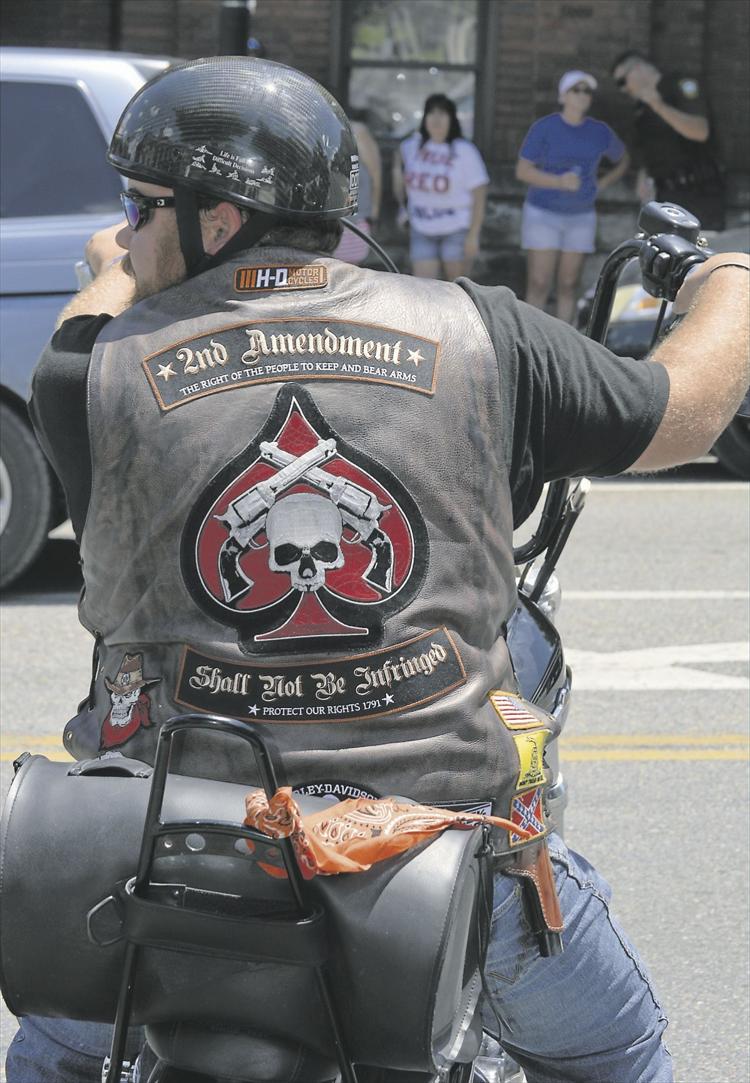 With their presence, the downtown took on a celebratory atmosphere with music blaring and flags waving. Along with a nearly two-to-one American flag-to-person ratio, rally-goers carried, waved and wore plenty of Confederate and Gadsden flags. One man wrapped himself in the American flag, while a woman wore a Confederate flag as a cape.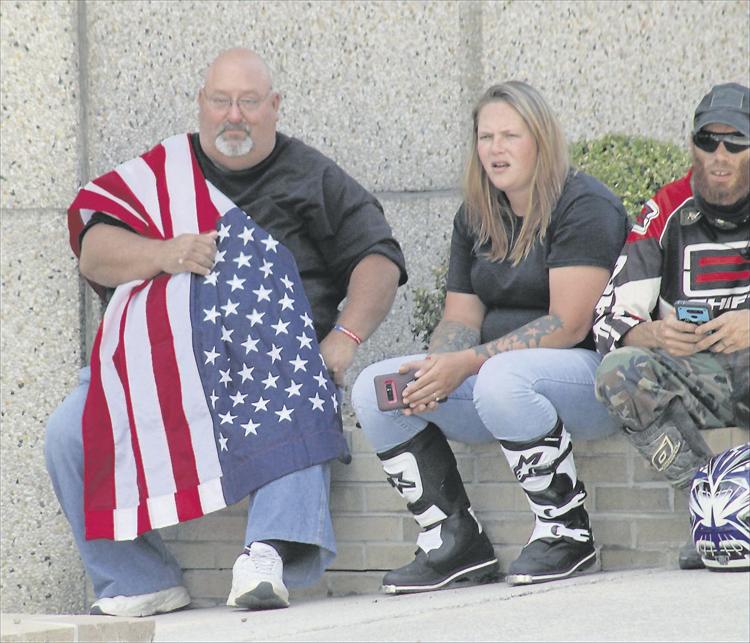 There were guns, too, at the 1 p.m. Main Street gathering. Lots of them. Open carried guns, concealed carried guns, guns on the dashboard of SUVs parked along Main Street. At times it seemed the First Amendment rally on Main Street would have been more aptly described as a Second Amendment rally.
By 1 p.m., the official start of the first rally of the day, around 200 people had lined both sides of Marion's Main Street from the courthouse down to the Lincoln Theatre. Music blared from bike and car radios, offering up Lee Greenwood, Toby Keith and Lynyrd Skynyrd tunes as people chatted, ate at restaurants and picnicked on the courthouse lawn.
Chris Kalber of Marion promoted the 1 p.m. gathering on social media as a family friendly Fourth of July gathering. However, there appeared to be no formal entertainment or structure to the event. Kalber declined to talk with the News & Messenger, saying, "I'm not interested in any reporter."
Hours later, Hans Taylor, of Blacksburg, who marched with the BLM protesters took an equally firm stance about standing up for his beliefs. When he said he learned of the cross burning at the Marion home of the local protest leader, 17-year-old Travon Brown, Taylor said he knew there was nowhere else more important for him to be on Friday.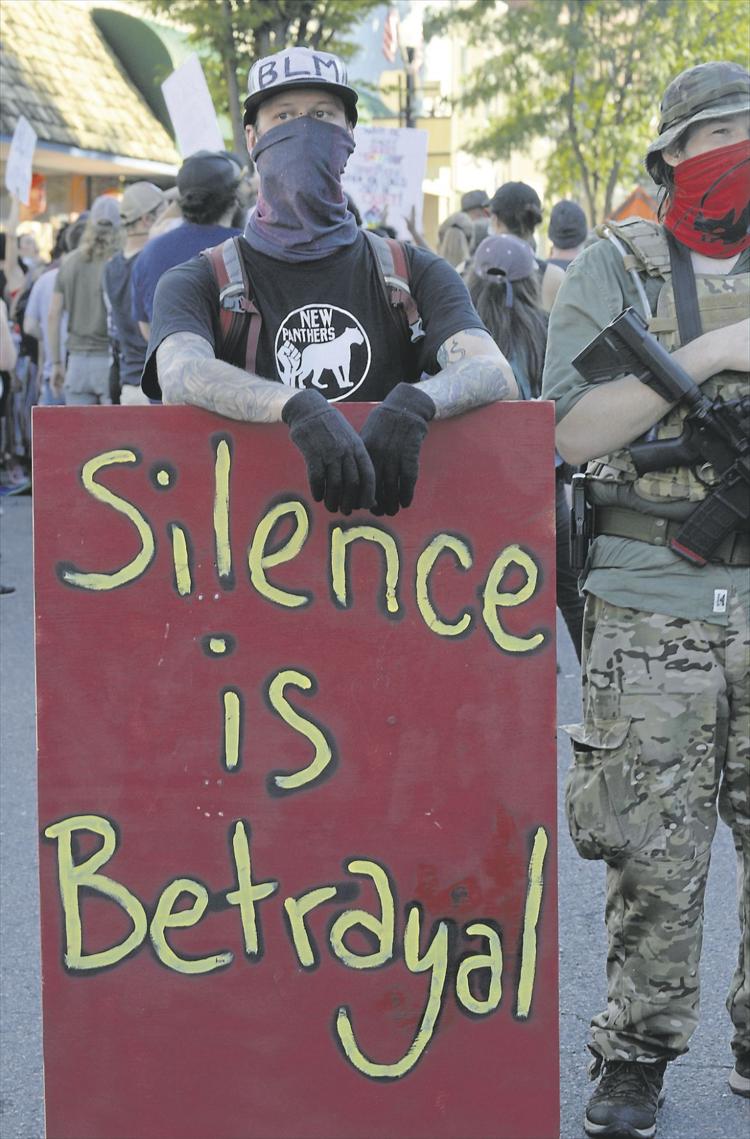 Brown, who was instrumental in leading Friday's BLM protest that included advocating for the LGBTQ community, was pleased that about 200 individuals joined in the march.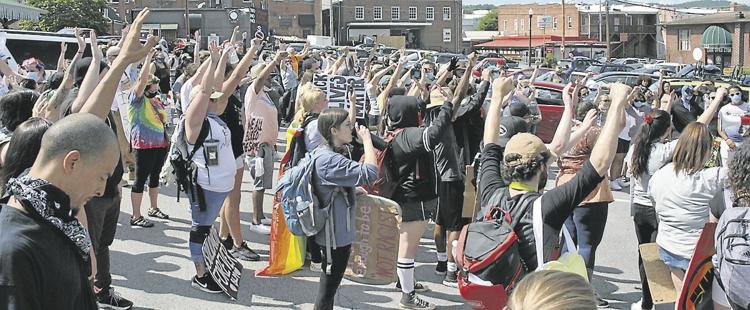 Brown was thrilled that among the BLM protesters were Marion Senior High School's athletic director Sallie Moss and his algebra teacher.
At the launch of the 4 p.m. protest, Moss spoke passionately about the need to recognize and address the systemic racism. She shared multiple examples of seeing racism in action at Marion Senior High School.
Brown said he was undaunted by the cross burning and the numerous threats against him that followed the June 13 protest, though he did express concern for his mother and sister.
When asked what gave him the strength to continue, Brown said, "My mom. My grandmom. My peers."
While the threats exist, Brown said a regional outpouring of support has also sustained him.
Brown said he won't stop advocating for change. He called on people to vote, to educate themselves, and to come out and see the protests for themselves rather than judging from a distance.
At 17, he sees endless possibilities for his future, speaking of obtaining a master's degree in African-American studies, attending dance school, and pursuing photography. Again, he thought of his mother, crediting her for the example of her strength.
Brown has acknowledged that he was not an easy boy to raise, fighting and even calling in a bomb threat to MSHS when he was 15.
Brown is now directing his energy toward BLM through the New Panthers organization of Johnson City. He has stated plans to bring a chapter to Marion.
The late afternoon BLM demonstration was distinguishable from the earlier protest, but only by degrees.
Music – more hip hop than country or southern rock – played from the stage. There were guns, just not as many. And there were a whole lot more masks. On Main Street, few taking part in the protest wore a mask. At the farmers market, few didn't.
Even the chants were similar.
Brown, speaking to the crowd of around 300 changed up the message of the day from "Black Lives Matter" to "All Black Lives Matter," giving a nod to the LGBTQ community.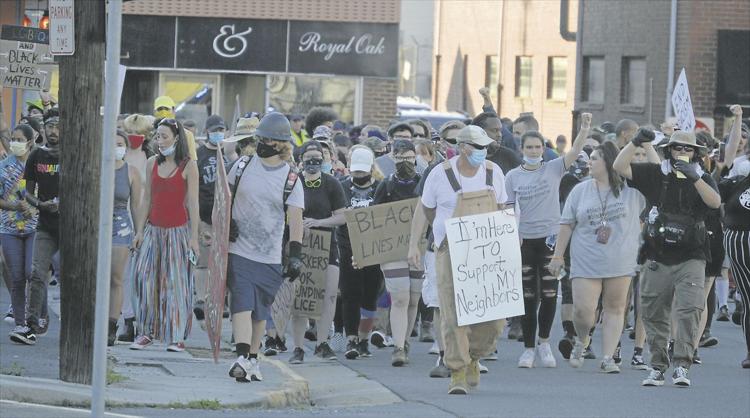 Friday's events occurred under the watchful eyes of legal observers from the National Lawyers Guild. They were present to ensure that no one's civil rights were violated. Late Friday evening as all the protesters were disbursing, they reported observing no problems.
Linda Burchette contributed to this article.
Be the first to know
Get local news delivered to your inbox!