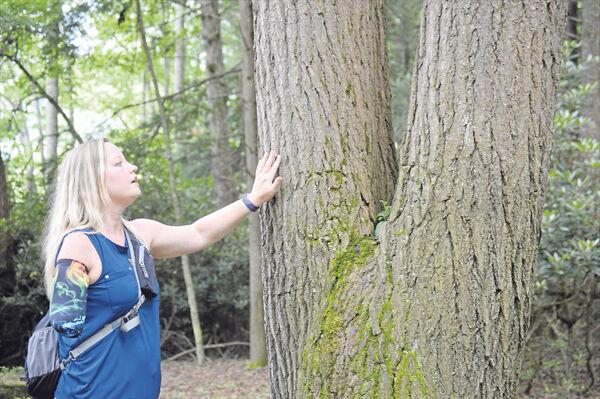 Tina Hayes knew for years that she would lose her arm. In her early 40s and suffering complications from the AVM (arteriovenous malformation) she was born with, she was ready. She asked the doctor to amputate it.
While she expected the phantom pain that often comes with losing a limb, her need for medication surprised her. Hayes' doctor told her to expect to take the nerve pain medication for the rest of her life.
That prospect didn't sit well with Hayes, who began searching for another remedy. She found one – a practice that has also helped ease her lifelong battle with anxiety.
Now Hayes wants to share it with other people. The student has become the guide.
In her search for alternative treatments, Hayes came across the Japanese practice of Shinrin-Yoku, which translates to "forest bathing." Also often called forest therapy, Hayes said the simplest definition is using your senses to immerse yourself in nature.
Hayes, who grew up staying outside from morning until dark, decided to try the practice. Working with her doctor, she began to decrease her pain medication dose. Within two months, she was free of the medicine.
She also is becoming increasingly free of anxiety. Before adopting a forest therapy practice, Hayes said, the knowledge of a work presentation at the end of the week would ruin the entire week for her. At times, she would cry from the stress and get sick to her stomach.
She credits forest therapy with helping her become mindful and slow down.
Despite losing her arm, Hayes said, "I feel more whole now."
Hayes was frustrated, however, that this area wasn't home to any certified forest therapists. She remedied that situation. There's one now.
Hayes decided, "If I couldn't find the guide, I'd be the guide."
She discovered the Association of Nature & Forest Therapy (ANFT) and registered for training. She traveled to Ohio for intensive studies and then continued her work at home. In March 2016, she earned her certification.
"Major surgery got me there. We get so busy and live every day just getting tasks done…. I think it sometimes takes something to stop us in our tracks."
The world has opened up to Hayes in new ways.
She's lived in Southwest Virginia all her life, but, now, she said, "it's like I just discovered it."
Like so many others, when she was young she thought this area was boring and she wanted to move away. Today, Hayes said, "it brings me so much joy."
She ticked off mountains and trails and learning that the region is a biodiversity hotspot. "Southwest Virginia is one of the best places where people should be taking advantage" of the ability to connect with nature.
With her eyes opened to the natural world, Hayes joined the Holston Rivers Chapter of Virginia Master Naturalists. There, she met Tanya Hall, who serves as the Department of Conservation and Recreation's advisor to the chapter's board. Hall also is chief ranger for visitor experience at Hungry Mother State Park in Marion.
Hayes was interested in leading a forest therapy program, and Hall said she's "always looking for new outdoor opportunities for our guests. I like to host diverse programming so we hit everyone's interest and not just cater to one type of audience."
Hall observed the program "went over very well, especially with our more experienced adults."
Hall participated in one of the weekly programs and "I enjoyed it very much. I noticed so much more around me. Instead of worrying I needed to get from point A to Point B, I was able to notice all the little things around me that many of us miss in our busy, noisy days. I was able to hunt for critters in the creek as I listened to the trickling of the water. I enjoyed a snake catching a very large fish (This might sound scary to some, but it was very fascinating to watch nature in one of its most intimate moments.); and I enjoyed feeling the slight breeze in the shade of towering trees."
Last year, Carrie Sparks, a recognized regional expert in edible, herbal and medicinal plants, joined Hayes for one program and kept going back every week.
Sparks had read about forest bathing in multiple magazines and decided to give it a try. She loved the program's ability to get participants to use all their senses to be aware of what was around them. She too focused on easing her pace. Even when going to the park, Sparks said, she would hurry from the car to a picnic shelter or to the beach.
Forest therapy, she said, encourages participants to take in the world around them deliberately. "It helps you be in touch with right now, not yesterday or tomorrow."
In one of last year's sessions, Sparks said she watched a Baltimore Oriole land in a tree. "I would have never seen it if I'd been walking along."
Sparks began taking different friends with her to each session to introduce them to forest bathing, which she defined as "just bathing it in."
She's looking forward to the program once again being offered at Hungry Mother, though, Sparks said, she realized that she could do forest therapy most anywhere, even in her backyard.
Hayes emphasized that it can be done anywhere someone can connect with nature even if it's sitting on a porch or simply studying a plant in a hospital.
Hayes was also quick to point out that in forest therapy, the forest is the therapist. "The guides just open the door."
The Bristol resident has also offered forest therapy programs in Russell County and for People Inc. She said the program can not only be good for those suffering with a physical, mental or emotional problem, but also for those who want to take preventative action. She said the program can be beneficial for those going through cancer treatment, PTSD, addiction and numerous other challenges – even stress and anxiety stemming from the COVID-19 pandemic and the country's unrest.
Forest therapy requires three components: being in nature, using your senses, and slowness or stillness.
Those studies suggest forest therapy can ease stress, depression and anxiety, and lower blood pressure, while boosting focus, creativity, immune function and the activity of natural killer cells that help destroy certain tumor cells and viruses. "It's one of the simplest things you can do for your health," Hayes said.
To maintain benefits, the ANFT recommends people practice forest therapy for about two hours a week and that time can be done in small increments.
Due to the relaxation and de-stressing nature of the program, Hall said, Hungry Mother will be offering forest therapy on Thursday evenings (7 p.m.) at no charge. "We want to try it at night when people are ready to settle down for the evening and relax right before bed," she said.
Forest therapy traditionally includes a tea ceremony featuring tea made of local plants, such as dandelion or spicebush, but, due COVID-19, that won't be included at this time.
The program is open to people of all abilities. Hayes noted that one participant was confined to a wheelchair and was able to join in.
For herself, Hayes said, "I'm enjoying the journey." She reduced her work hours to focus more on offering forest therapy. "I've learned it's OK to slow down."
She's also learned that awe-inspiring moments can come from the simplest actions "you get to watch like a single leaf falling off a tree."
Be the first to know
Get local news delivered to your inbox!