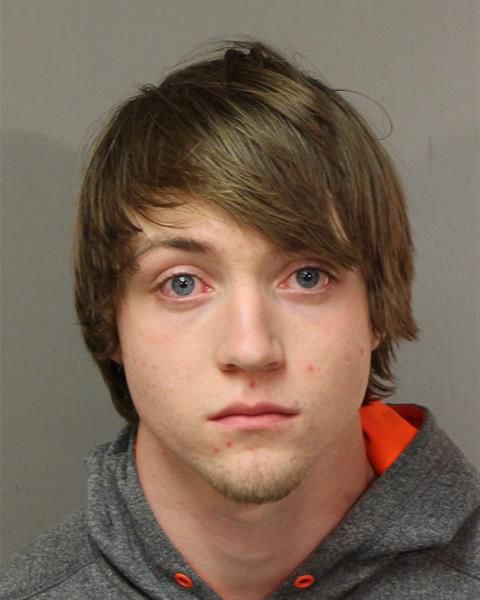 The final gavel sounded Tuesday in a double homicide that rocked Wythe County and still reverberates three years later. Hunter Armbrister, 21, pleaded guilty and was sentenced for his role in the deaths of Aidan Dawson, 17, and Ray Rodriguez, 24. Both victims were shot once in the head after a fake drug deal at an abandoned Wythe County residence.
Speaking from jail via a video conferencing system, Armbrister pleaded guilty to nine felonies in the November 2017 slayings. Before Judge Josiah Showalter sentenced him to 17 years in prison, Armbrister made a statement. Because of the way the television screen was placed, no one in the audience, including Dawson's family, could see Armbrister as he spoke. When they heard his voice, many family members began to cry.
He said he was sorry for what family and friends of the victims have been through, and that he hopes that someday he will be forgiven.
Armbrister was the third and final suspect to be sentenced in the case. In January, gunman Dylan McGlothlin received two life sentences for his role in the crime. In August, Jared Stephens received a 15-year sentence.
Wythe County Commonwealth's Attorney Mike Jones said that after Stephens was sentenced, Armbrister's attorney, Christopher Monique, told him that his client was interested in a plea agreement to serve 15 years like Stephens. Jones spoke to the victims' families who wanted Armbrister to serve more time than Stephens because Armbrister helped McGlothlin hide the bodies behind an abandoned shed.
The families agreed to a 17-year sentence for Armbrister, Jones said.
"No matter what has happened in the courtroom over these years, there will never be peace for the families of the boys killed," he said. "I'm hopeful that the resolution gives the Dawsons and Rodríguezes some sort of closure."
Armbrister pleaded guilty to one cocaine distribution charge, two felony murder charges, two counts of using a firearm in the commission of a felony, two counts of being an accessory after the fact of a homicide and two counts of concealing a dead body.
The case dates back to late November 2017 when what began as a missing person case for Dawson turned into Wythe County's first double slaying in as long as anyone could remember.
According to police accounts and the prosecution, on the evening of Nov. 30, Jared Stephens drove a Jeep that carried Dawson, Rodriguez, McGlothlin and Armbrister. At McGlothlin's request, Stephens parked at an empty Reed Creek Drive farmhouse so McGlothlin could sell drugs to someone inside.
After going to the house and returning to the Jeep, McGlothlin shot Dawson and Rodriguez with a .357 Magnum revolver, a weapon police found in McGlothlin's car during his arrest. The next morning, Armbrister helped McGlothlin move the bodies from the driveway to behind a nearby shed.
Police said Stephens and McGlothlin, who gave Stephens cocaine in exchange for his silence about what happened, cleaned up the Jeep and disposed of cleaning products at a local gas station.
The bodies of Dawson and Rodriguez were not found until six days later when Stephens confessed to an investigator. A motive for the deaths has never been revealed.
Be the first to know
Get local news delivered to your inbox!