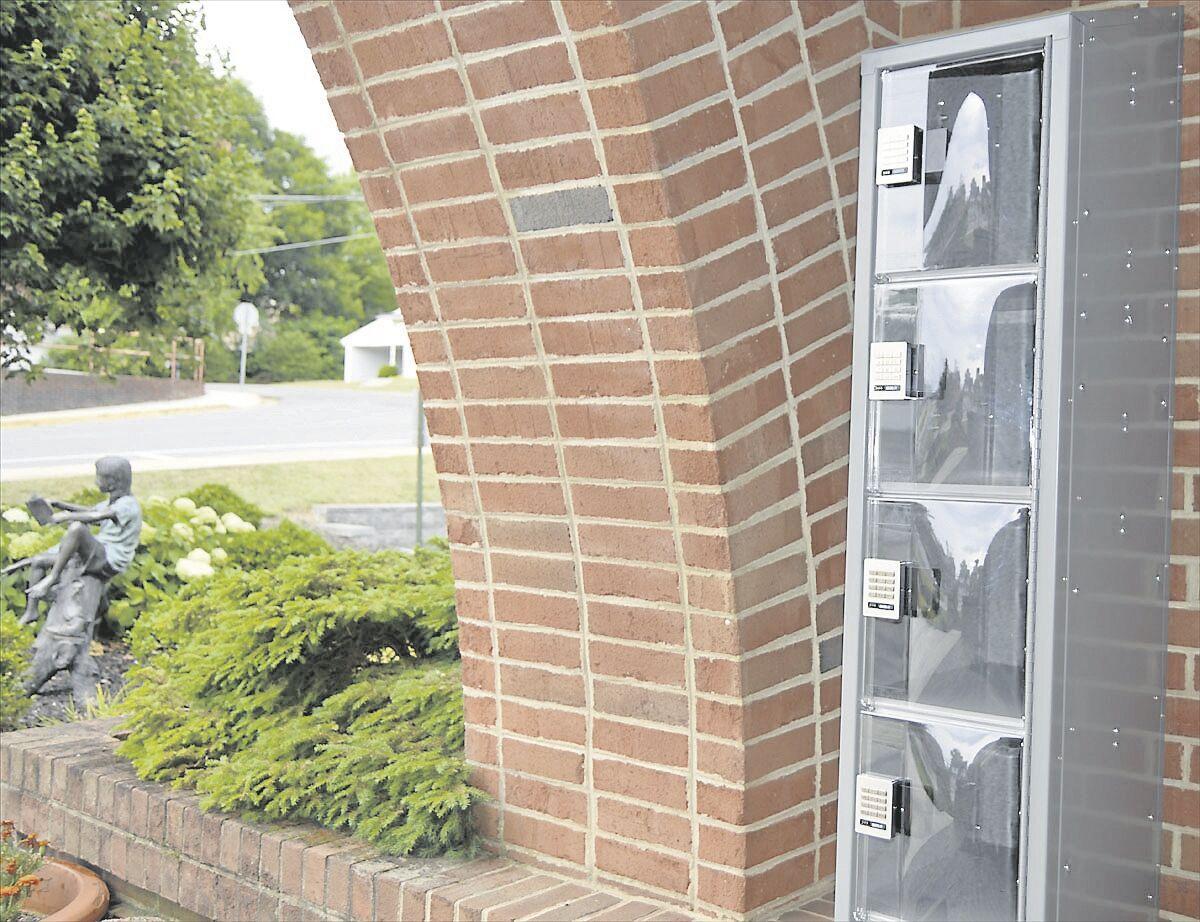 Library patrons can now pick up materials any time of the day or night.
Rose Likins, Smyth County Public Library's (SCPL) director, announced the addition to library services at Monday evening's Marion Town Council meeting and last week's board of supervisors session. She told officials that the outdoor lockers have been installed at the system's three branches: Chilhowie, Marion and Saltville.
Likins knows that for some individuals getting to the library during its usual operating hours can be challenging.
To use the service, according to a SCPL news release, patrons may request materials by calling or emailing one of the three branches. At the time of a request, patrons will be assigned a locker number and a four-digit locker combination. Materials will be placed in the locker and may be retrieved at a convenient time within 72 hours. If not picked up within the three-day window, the materials will be removed and put back in circulation.
The release noted that the lockers have been put in well-lit, easily accessible locations near the front doors of the main library and each branch. 
In the release, Likins said, "The SCPL team is delighted to be able to expand our services to our valued patrons. We know how busy everyone is and that it's sometimes hard to squeeze in a visit to the library to pick up that new book you're eager to read or the movie the children requested. We hope this solution makes it easier to take advantage of SCPL's wonderful collection."
During the two government meetings, Likins also said that SCPL had added about 3,000 new items to its collection within the last three months. The Marion and Chilhowie branches are adding Spanish language titles to their collections to better serve their communities, Likins noted.
The branches may be reached at 276-783-2323-Marion; 276-646-3404-Chilhowie; 276-496-5514-Saltville. 
SCPL outreach services to senior citizens are also returning to pre-pandemic levels, she said, by connecting with District Three's friendship cafes and serving Francis Marion Manor and Valley Health Care Center.
Likins also said SCPL is pursuing grants to help expand internet access throughout the county. One grant, if awarded, would allow the library to purchase wifi hotspots that can be loaned to patrons. Another grant would provide internet routers that can be placed throughout the county with hosts.
Census Bureau  data, she said, projects that 30% of county households don't have broadband access.
A third grant, she said, would allow the library to offer a STEM (Science, Technology, Engineering, Mathematics) educational project. As well, the library is working to add tablets that can be loaned to children and senior citizens.
Supervisors' Vice Chair Lori Deel praised SCPL's community partnerships. For summer reading programs, she noted that the Marion branch is working with the Lincoln Theatre and the Chilhowie branch is collaborating with Hungry Mother State Park and local food pantry Loaves & Fishes.
After the meeting, Likins said, this summer's reading program theme is Tails and Tales and focuses on animals. "We are collaborating with Hungry Mother Park to read stories and then offer an instructive animal-related element presented by local rangers. After the program, children can pick up weekly animal-themed crafts and activities to complete at home. For example, our Friends group provided live larvae to each child so they could watch the transformation of a caterpillar to a butterfly. In addition to the collaboration with the park, we are hosting weekly guest readers from the community. This month our guests were Christy McAllister, Jackie Labarro, and Kasey Blevins."
In addition, Likins said the food pantry has been helping the library ensure that a hot meal is provided to participants after each program and any child under 18 regardless of income level also receives a week's worth of shelf stable food.
Likins said about 50 people attend each story time program.
For youngsters who can't attend in person, Likins said, the library has offered summer activity bags for kids all ages. The focus of these bags was again animal-themed and contained a reading log, free book, crafts, self-guided activities and other fun items. Approximately 70 bags were distributed in June.
Adults aren't being left out. The director said a self-guided summer reading program also kicked off this month for adult patrons. The reading log can be completed and turned in at the end of July in exchange for a prize.